During my childhood, I enjoyed visiting Yosemite National Park. Most of my happy moments revolve around seeing the Yosemite Falls with my family. Last year, I was oh-so-happy to be back to relive those childhood memories.
However, this was more of a different story.
Never in my life had I imagined I'd be summiting one of Yosemite's most popular hikes: HALF DOME!!! 
Half Dome, a granite dome that looks to be cut in half, was one of the lottery permits I won last year and it is one of the many things I want to cross off on my bucket list.
---
FUN FACTS ABOUT HALF DOME
1. The Native Americans who originally lived in the Yosemite area called the Half Dome "Tis-sa-ack," which means Cleft Rock.
2. The Half Dome has been on a postage stamp and is also on the US quarter featuring the state of California. Recently, California added the image of the Half Dome to its driver's license design.
3. There is a Native American legend that explains the creation of Half Dome through domestic violence. The legend tells us that a young married couple was arguing. The wife, Tesaiyac, in her despair threw a basket of acorns at her husband as he was chasing after her.
The gods, as a punishment, turned them into stone. The husband became North Dome, the basket became Basket Dome, and Tesaiyac became Half Dome. If you look closely, you can see the outlined profile of Tesaiyac on the face of Half Dome and tears running down her face.
4. For many years, Half Dome was deemed unclimbable, but in 1919 a cable route was added to Half Dome's eastern face, and Yosemite hikers can now pull themselves up the steep grade to the top
5. Half Dome rises about 1,520 meters (5,000 feet) above Yosemite Valley and 2,680 meters (8,800 feet) above sea level.
---
Michael, my adventure buddy, and I woke up at around 5 am to start our hike to Half Dome.
We brought our essentials: daypack, 3L of water, snacks, headlamp, jacket, first aid, water filter (just in case), and permit. We got lost trying to find the trail, but we met up with another group of hikers who thankfully knew the location. We followed them until we were at the actual start of the trailhead.
The trailhead starts at Happy Isles Nature Center.
Follow the Mist Trail sign and you're good to go!
We thanked the hikers and stopped to take a restroom break. There is a restroom on the side of the trail and a sink to refill your water bottle/hydration pack.
Later, the trail turns to switchbacks as you gain elevation. And before you know it, you climb up steep, rocky stairs leading to the top of Vernal Falls. I thought I was climbing up Stairmaster 99 for this trail because my legs were getting a cardio workout.
Also, the trail seemed a bit treacherous since the rocky stairs were slippery (I almost slipped a few times). But at least there were handrails to grab onto.
Just a note: These photos were taken after summiting Half Dome. It was wayyy too dark to take photos.
We then headed towards Nevada Falls. Once we made it to the top of the falls, we took a quick 10 minute break.
After Nevada Falls, you'll reach the last bathroom stop so make sure to "go" before continuing on.
Once we passed the restroom stop, we made it to Little Yosemite Valley. The trails here became mainly flat and sandy (which is a HUGE PLUS)! 
Plus, you're close to the Merced River. Merced River is a great stop to filter your water if you're running out of water.
We continued onto the sandy trail. About a few more miles ahead, the trees started to get dense, turning the whole trail into an enchanted forest.
The trails started to get steeper as we climbed multiple switchbacks while pacing ourselves out of the forest and back into the open.
Slowly and surely enough, we could see Half Dome from up above.
And the gorgeous views from where we're standing!
Before Sub Dome, there's a sign warning about the dangers of Sub Dome and Half Dome so take extra precaution.
I admit. Sub Dome was by far the toughest part of the whole hike.
The Sub Dome was a set of VERY steep rocky stairs and switchbacks. The rocky stairs were too steep that this was like taking steps aerobic class. My legs turned into jelly afterwards. Actually, let's just say my whole soul…
Once we made it past Sub Dome, I looked out in front and saw this…
It felt surreal that we're going to be climbing THAT! We made it around 10:45 am so we had more than enough time to relax before climbing the BIG KAHUNA.
If you start later, the best time for you to get to the cable of Half Dome is 2 pm at the latest. I HIGHLY RECOMMEND turning around at least by 3 pm, due to possible lightning storms and unpredictable weather.
What makes this a dangerous hike is that if you happen to let go of the cable or slip off, then you'll fall off more than 400 feet to GOD KNOWS WHERE!!!
However, don't let that fear stop you! If this little nugget can do it, then so can you.
At first, I expected the Half Dome cables to be a straight vertical climb. Turns out it wasn't. The dome is angled a certain way so it's easier to climb up and grab the cables.
Before the cable, I recommend bringing your own gloves. If not, there are a pile of used gloves that people throw out.
For the cable, I recommend placing both feet on the wooden plank to take a break if you're tired.
To be honest, there was a pattern to this climb.
CLIMB-CLIMB-CLIMB-REST-CLIMB-CLIMB-CLIMB-REST (and so on and so forth).
I also wouldn't recommend looking down unless you're brave.
Since I'm a daredevil, I took a photo of my friend gripping onto the cable. This picture can't even do justice of how exhilarating and thrilling we both felt during the Half Dome cables.
About 15 minutes later, we made it to the top of Half Dome!!! To cross that off my bucket list was a HUGE ACCOMPLISHMENT!
This massive granite dome was HUGE and I gotta admit, the views uptop were BREATHTAKING!!!
Michael and I took photos from the visor which is a very popular spot to take photos. And believe me when I say the visor is popular. It is SOOOO popular we had to wait in line for photos of us standing on the edge. And me being the daredevil I was, I stepped off the visor onto a rock underneath and pretended I was falling down.
We even found a small cave underneath the visor. This cave was the exact spot where five hikers got struck by lightning back in 1985.
Coincidentally as I was peering out of the cave, there were people who called us "cave dwellers." I even went as far as getting as far to the edge as possible so as to see the views from the bottom (that's how much of a daredevil I am).
Around 11:30 am, Michael and I turned around and headed back down the cable. As you descend down the cable, I HIGHLY recommend descending backwards (like you're rappelling) since it's felt safer and you don't have to look "down" as often.
After climbing down Half Dome, I felt so elated that I high-fived the other Half Dome hikers.
We descended down Sub Dome carefully, but I slipped due to the uneven steps. I only got a few scratches on my hand (no biggie).
During our hike back down, we came across a ranger who checked our lottery permit.
So make sure you have your permit especially before the cable!!! You never know what may happen!
Soon enough, we made it back to the restroom stop before Vernal Falls.
Once you're there, you have two options: take John Muir route or take your original route. I recommend taking the John Muir trail even though it's about a mile and a half longer than the usual route since it's easier on your knees and it's just a set of switchbacks without those steep, uneven stairs.
Unfortunately, Michael and I took the original route which we later regret. Michael bolted down those steps like it was nothing while I slowly took my time. My knees shook so bad that it took every ounce of energy to get down those damn steps. It felt like forever to get out of the trail. After six grueling hours, we finally made it back to Happy Isles!
Michael and I finally reunited after my very, slow walk back up the shuttle stop. Once the shuttle came, I immediately snuck past people into the bus without even thinking about Michael (I was too tired and out of my mind).
Soon, I realized I left Michael in the dust so I panicked thinking now I have to go find him. Luckily after I exited the stop to Half Dome Village, I found him sitting on the table where we ate our lunch on our first day in Yosemite. I was instantly relieved.
We both took a nice hot shower for only $5 before we left Yosemite for our next adventure. For only $5, I'd say the shower was HELLA WORTH IT! Plus, we smelled like hobos (literally).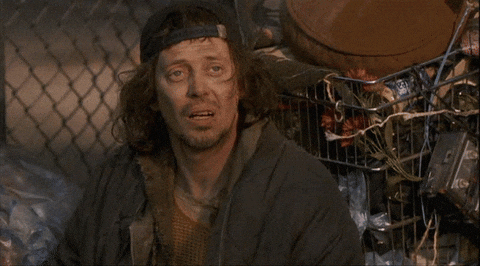 Would I recommend climbing Half Dome? DEF–IN–ITE–LY !!! The views are amazing and in my opinion, this is definitely a once-in-a-lifetime experience! For those who are deathly afraid of heights, I still recommend this hike! Why? Because this is something you don't get to do everyday for the rest of your life!
Half Dome Hike
Distance: 14-16 miles
Elevation Gain: 4800 ft.
Time: 10-15 hours
Have you hiked Half Dome? Tell me about your fun or crazy experience in the comment section down below.